[WEBINAR] Unlocking Lettings Management
Fixflo
Date:

Thursday, 21 May, 2020 at 14:00

Location:

Online, UK

Type:

Webinar

Cost:

Free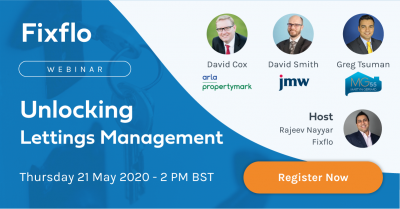 While the national Government is determined to partially reopen the housing economy, how well equipped are colleagues in the Private Rented Sector both on a procedural and resource level? Repairs and maintenance management software provider Fixflo launches a new webinar series titled Unlocking Property Management as we find our way through the Covid-19 crisis and their first episode is dedicated to letting agents and property managers operating in the PRS. Registration is now open for this Thursday's broadcast at 2 PM BST.
Joining MD Rajeev Nayyar are the Chief Executive of ARLA Propertymark, David Cox, Partner at JMW Solicitors, David Smith, and Greg Tsuman, Lettings Director at the award-winning agency Martyn Gerrard and a long-standing ARLA regional representative. The panel will decipher the myriad of new regulations and government guidelines recently introduced and provide attendees with practical advice on working safely, efficiently and in a compliant manner during this transitional period. A must-attend for letting agents and property managers who have reopened or are considering restarting their business operations in the near future.

Agents are encouraged to register early before capacity is reached. Registration is completely free and all registered attendees will be sent a link to the full recording and relevant resources afterwards.